1.
What documents do you need to bring with you?
- All passengers, including children and infants, must carry an ID with photo.
- Passport valid for at least 6 months- Tickets or Airline Reservation
- Hotel, Transfers and excursions vouchers
- Analgesic and antipyretic for pains and fevers.
- Antihistamine for allergies, itching of insect bites and travel sickness.
- Medications for nausea and vomiting.
- Dressings, cotton, scissors (only allowed in the hold baggage) and thermometer (note that mercury thermometers are prohibited by airlines.)
- Insect repellent, sunscreen and lipstick against the ceiling.
- Chewing gums against sore throat.
- Syringes and needles if you are under treatment with an injectable medicine (only allowed in the hold baggage of the airplane, unless special authorization).
3.
What healthcare should you have before your trip?
- Make sure that before you start a trip you are in good health.
- If you wear glasses or contact lenses take a extra pair.
- If you take a specific medicine make sure you take it in enough quantity.
- Passengers with special needs must first inform themselves of the conditions for transporting products in liquid or gel.
- In order to use injectable medicines, you must request in writing to the INAC a special authorization for the transport of the syringe and the medicine to be injected as cabin luggage, by presenting a medical certificate to prove that the passenger needs the medicine, as well as mentioning the flight number, date, airline, destination and passenger identification.
4.
Should I take any vaccine?
- Do not dispense a consultation of the traveler for proper medical screening.
5.
Pregnant: Can I travel?
- It is not advisable for pregnant women to travel to destinations where it is necessary to take vaccines against dangerous diseases such as yellow fever. Some diseases are much more dangerous for a pregnant woman (and increase the risk of death at birth) such as malaria. As a rule, airlines allow the transport of pregnant women up to 36 weeks. In addition, medical authorization is required.
6.
During the trip, how should I proceed?
- When traveling long distances, the human body takes some time (usually three days) to adjust to the new time zone. You may experience fatigue, disorientation, insomnia, anxiety, lack of concentration, and loss of appetite.
The direction in which you travel is decisive. Traveling east causes more changes than traveling west. This happens because when traveling to the West you are increasing the duration of the
"day"; conversely, if you travel to East this "day" shrinks.
- Sleep and eat at a time close to your destination time zone before you leave.
- Rest well before the trip and avoid last minute worries.
- For very long flights (especially to East) try to make a stopover while traveling.
- Drink lots of water, try exercising and avoid drinking alcohol.
- Wear light clothing, a mask, and earplugs for better sleep.
7.
I'm going to travel with children. What should I know?
- All children traveling abroad, regardless of who accompanies them, must be provided with an Identity Card when traveling within the European Union. Outside this country, to any other country, they must be provided with an Identity Card and a Passport.
- Foreign citizens must have the necessary documentation (passport, visa, residence permit, etc.) to travel or transit within the European Union. For travel in whole or in part outside the European Union, visas or other special documentation may be required. Please consult the Embassy or Consulate of the destination country of your trip
- Minors, children of married parents, must be authorized to leave, issued and signed by parents - with recognized signatures, if they leave alone or accompanied by third parties. In the case where the minor leaves only accompanied by one of the parents, it is always necessary to submit the authorization of the other, recognized by a notary or with a lawyer.
-
There are several options depending on the destination, please refer to the following table: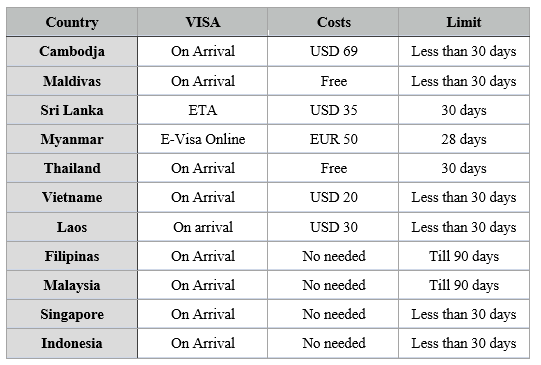 9.
How can I book my trip?
- Contact us through our contact form.
10. How do I pay for my trip?
- Payment must be made by bank transfer to the company account in Portugal
.
- Bank charges are the responsibility of the issuer.
- The customer can choose to pay in two installments:
- The first installment must be settled at the time of booking
- The second installment must be settled within 30 days of your arrival
- If the time between booking and arrival is less than 30 days, the customer must pay in full.
11. Should I raise money or exchange money?
- If you have the possibility, you should take money with you and use one of the several money changer offices. The survey has increased costs but is also a useful and safe way.
12. Should I exchange money at the airport?
- You can exchange some money but the exchange rate at the airport is different from the other exchange shops.
13. Where can I buy a sim card?
- You can get it at the airport or at any store for that purpose. Make sure your device is unlocked.
14. How can I get in touch with Diamond Escalpe, Lda during my trip?
- You must use the contacts that are provided for this purpose, especially the number of our General Admim. Any situation can still be reported via email or via social media.
15. How do I make sure your company is trustworthy?
- You can consult our website with the various testimonials from customers satisfied with our service. In addition, you can confirm the veridically of our bank through your bank.
16. I want to be sure of my reservations, how can I do it?
- It will be sent a document that you can use as a voucher with all the services contracted. If you have booked hotels with us you can also contact them and request a reservation confirmation.
17. Why should I choose your company?
- We are the only local agency specializing in the Portuguese market. We have a certificate of excellence in evaluating our services and we have experience of living and working with local people.
18. I am concerned about the circumstance of sharing personal data online.
- Your data is 100% safe with us. You can make sure of this by reading our privacy policy.